Alium Green Button Release
Alium Finance is excited to announce the launch of the Alium Green Button, an innovative incentive program beginning this March. The Alium Green Button marks the first phase of gamification for the Alium DEX, with the primary objective of rewarding users who engage with Alium DEX by offering ALM tokens, stables, and NFTs.
As a part of the gamification program, Alium users will have the opportunity to earn Planet NFTs that are upgradable, and users will be able to enhance their NFTs by actively participating in the incentive program. This exciting initiative is aimed at encouraging Alium users to utilize Alium's Swaps and Liquidity provisions and be rewarded for their engagement.
By launching the Alium Green Button initiative, Alium Finance is embarking on a journey to the stars, providing its users with an exciting opportunity to acquire and upgrade Planet NFTs, get tangible rewards and join among very first users to Alium Interplanetary Journey. Join us on this experience with the unique features of Alium DEX while earning valuable rewards.
Main Rules of Alium Green Button
Users can earn tickets by completing the following actions:
1 Ticket for every 5 Swaps (with a minimum swap volume of $10 each)
1 Ticket for every $20 of Liquidity provided on any pair within the BSC, ETH, and Polygon Blockchains, with a maximum of 10 tickets per day.
For even greater rewards, any operation that involves ALM tokens will multiply your tickets by 20%. For example, if you provide $100 for the ALM-BUSD pair, your rewards will be multiplied and you'll get 6 tickets.
Each spin of the Wheel of Fortune offers the chance to win up to $5 worth of prizes.
Minimum withdrawal amount is $10 equivalent. To mint the NFT you need to reach 3-rd lvl.
This incentive is available across three chains: BSC, ETH, and Polygon. Join us and participate in the Wheel of Fortune to earn valuable rewards on your favorite blockchain.
How to play Alium Green Button?
To get your very first ticket you need to connect your wallet, and go to the Trading or Liquidity provision Section and perform any active action – Make a Swap for at least $10 or provide liquidity at least for 20$.
As soon as you get your first ticket, you need to click the Win Crypto button and move to the Alium Green Button game page.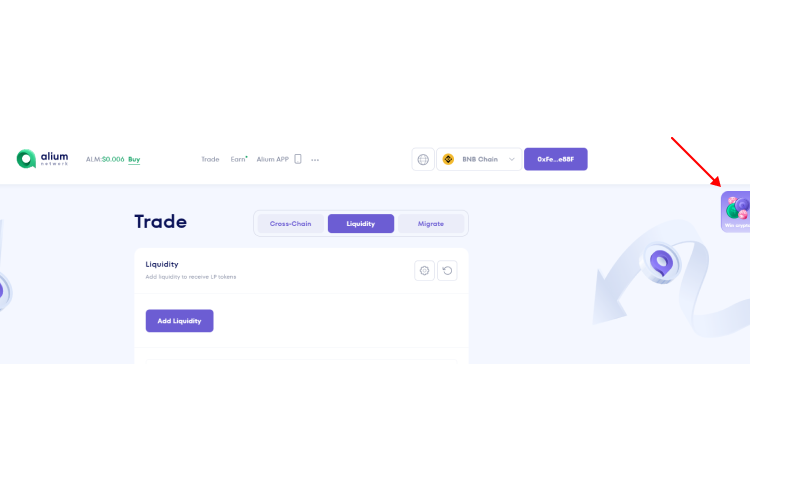 Now, when you already have a ticket and you are at the game page you can spin the wheel for the first time, to do that, click the button from the screen shot.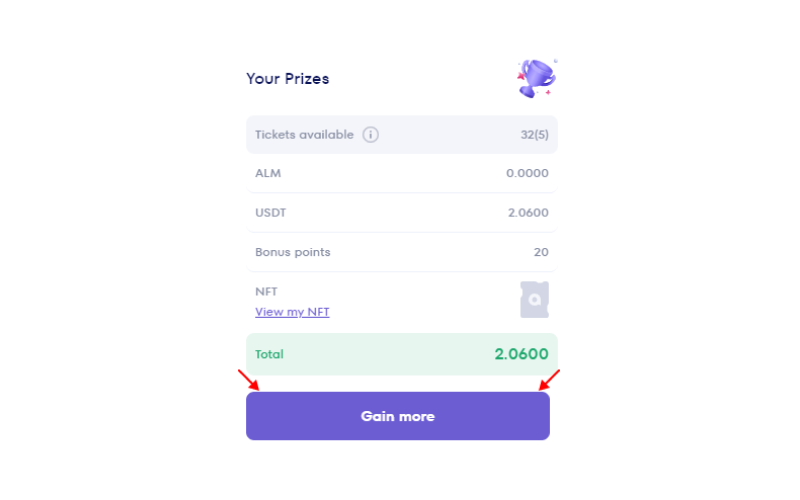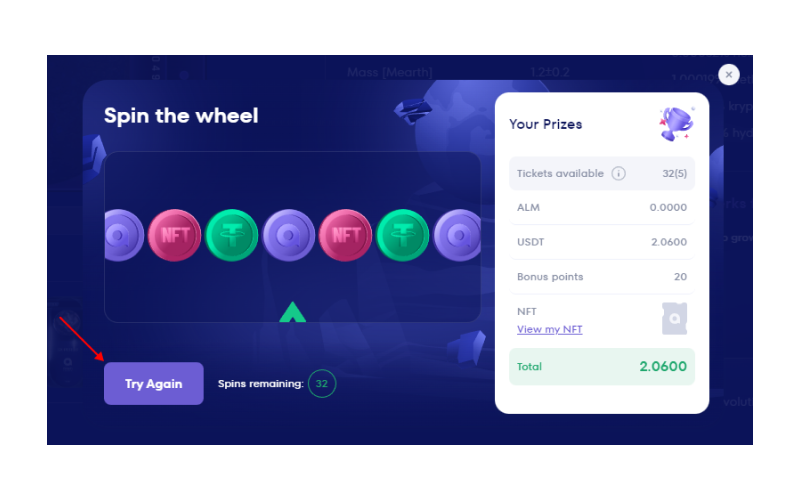 Congratulations! You've just won your first rewards. Earn at least $10 to be able to withdraw it!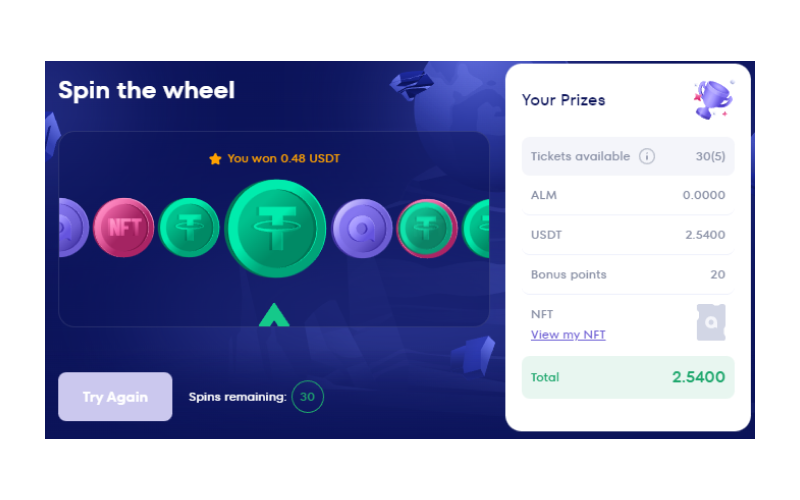 If you want to mint your NFT and withdraw it to your wallet – you need to reach 3-d lvl, but you won't be able to update it later using AGB game.
2
people liked this article