Learn with Alium: How to Provide Liquidity and Generate Income
By Alium Finance
3m
22.07.2022
2
Previously, we shared with you the definition of Liquidity and explained the Hybrid Liquidity model implemented on AliumSwap, as well as how it works with Multi-chain DEX. For today, we will support you with more information about the definition of a Liquidity Pool, who are the liquidity providers, how to generate income from providing liquidity, as well as a simple guide for those who are on the way to becoming a liquidity provider.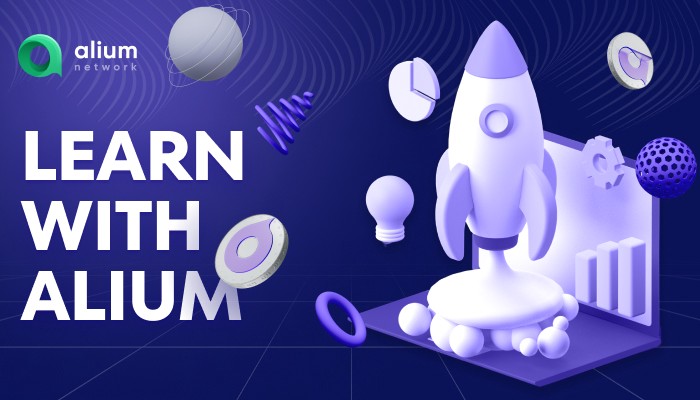 Let's start from the beginning…
About Liquidity Pool
To remind you, "liquidity" is a simple term used in a financial market as a measure of how quickly or easily a cryptocurrency or any asset can be converted to cash or other assets without difficulty or a significant impact on the market price.
Let's keep in mind that
Low liquidity levels indicate high market volatility, which can result in rapid price surges for cryptocurrencies.
A high level of liquidity indicates a stable market with low volatility in the price of the asset.
With increasing cryptocurrency adoption and wide usage as a form of payment, there will be an increase in cryptocurrency liquidity.
Liquidity is one of the major requirements for all tradable assets, including cryptocurrencies, as it allows them to be traded quickly. So, what about the liquidity pools?
A Liquidity Pool is a number of tokens in a form of pair that is used to provide liquidity and designated by the token pair it represents. For example, ALM-MATIC is a liquidity pool that consists of the liquidity provided for the pair of tokens ALM (Alium Token) and MATIC (Polygon Native Token).
And this is when liquidity providers come to action….
About Liquidity Providers
A liquidity provider, also known as Market Maker, is someone who helps with the decentralization of trading by providing crypto assets to platforms. Liquidity providers are those who are always willing to trade their assets, by providing liquidity and opening trading opportunities for users. Liquidity providers (LP) receive LP tokens, which are representing the amount of liquidity provided.
One of the major points for liquidity providers is that they can withdraw their liquidity anytime they want, from the liquidity pools, and It is important to mention that the assets provided are locked with the platform for the amount of time the user decides to provide liquidity.
How to Generate Income from Providing Liquidity
AliumSwap Multi-chain DEX has one of the lowest commission fees on the market with some great options for income. DEX charges 0.25% on every trade within the same blockchain, then reverts back to the liquidity providers at 0.2%, where the income is distributed proportionally among the LP token holders.
For example, In the last 24 hours, there are $100k fees generated on DEX for the ALM — MATIC liquidity pool. These fees would be distributed among the Liquidity Providers who hold the LP tokens for this particular pair. Therefore, you can get more benefits and reach higher ROI if you are a Holder of a few LP tokens for the MATIC — ALM pair.
Still here and wishing to become a Liquidity Provider? You can make try it out and start your journey as a Liquidity Provider by following our short step-by-step guide.
Step 1. Go to Liquidity Menu and Click "Unlock Wallet"
Step 2. Click Add Liquidity and select the Tokens
Step 3. Fill in the amount of tokens and click "Supply"
Confirm it and become a liquidity provider. Open new opportunities to generate income together with AliumSwap Multi-chain DEX.
Summary
As more people provide liquidity, it is ensured that users can buy/sell that asset by swapping it with other tokens for which the liquidity pair has been created. We want to make sure that our users are able to trade their crypto assets to the best of their ability, to maximize their profit and minimize their losses.
Learn more about us:
Official Website https://alium.finance/
Docs: https://docs.alium.finance/
Blog: https://blog.alium.finance/
Twitter: https://twitter.com/AliumSwap
LinkedIn: https://www.linkedin.com/company/alium-finance/
Telegram Chat: https://t.me/aliumswap_official
2
people liked this article